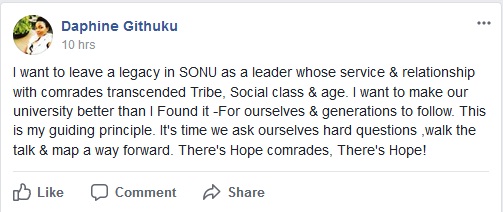 The race to succeed Babu Owino at the helm of the most powerful students' organization in Kenya is getting hotter as the year draws to a close and among the contendors is a young lady whose leadership qualities and campaign strategy are no match. Here are five reasons why Daphine Githuku is highly likely to become the next Students' Organization of Nairobi University chair.
All Other Candidates are from One Tribe
Daphine is competing against Apiyo Apiyo, Mike Jacobs Otieno and Jamal Birkan. Apart from Birkan, the other two contendors are from the luo community and will therefore divide their support base in favour of Daphine. On the other hand, Dahpine has a strong support base in her corner and enjoys massive support from the Kisii and Luo comrades at the institution. The support of these voting blocs will definitely drive her to the most powerful seat in student's politics.
Enjoys Massive Support
Check out NEW COMRADES FORUM on Facebook at any given time of the day and you will notice that 3 out of four posts on the forum are in support of Daphine Githuku. Every comrade is talking about this sassy lady who is poised to take SONU to the next level where students will enjoy their rights unhindered. Daphine hails from Kirinyaga County where political powerhouse in the names of Anne Waiguru and Martha Karua comes from. However, she enjoys massive support from all comrades at UoN thus making her a top contendor for the seat.
Dared to Dream Beyond her Predicessors
We all know about Irene Kendi aka Mama Yao who wasthe first SONU Deputy President the current Deputy President Angel Mbuthia. Now, Daphine has decided to break the glass sealing and go for the top post! Additionally, rumors have it that her running mate for the top seat will be the game changer that will leave all the other candidates conceading defeat even before the elections in 2018.
Opponents have Skeletons in their Closets
Apiyo Apiyo and Mike Jacobs have skeletons in their closet especially after being in SONU that they would never like to come out to the public. Having been in SONU before, one would ask them what they have done to make comrades' lives better. Birkan on his part is so soft and weak that he can't even lift himself off the ground! He will be a pushover by the administration. This leaves Dahine Githuku as the spotless, comrades' defendor that is right for the position.
Smart Strategy and Moneyed
One thing about SONU politics is that success depends on a smart strategy and money. Daphine is your girl when it comes to these two! Being a businesslady herself, she knows the importance of strategy and the girl has worked herself an amazing strategy that will win over comrades. In fact, her beauty is in itself a strategy that will win her votes. Then the girl is loaded! this provides an edge over her competitors who despite being in SONU still seek for handouts to facilitate their campaigns.