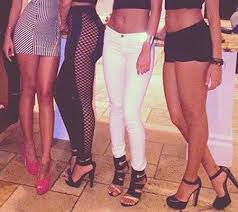 Racheal Nyaguthie.
Dear little sister,
As you are all excited about joining campus in a few months' time, allow me to calm your excitement with some elder-sister advice. I can imagine the image you have in your mind about campus life: lots of free time, freedom, no nagging siblings, lots of handsome guys asking you out, weekend out with girlfriends and so on.
I am also certain you are thinking about getting into a relationship with some hot dude but sweetheart hold your horses and listen to me, your elder and experienced sister. That dude you are fantasizing about could mess you up for good. He will want you as a fresher but trust me little sister, as soon as you get into second year he will ditch you and carry on with his life like you never existed. Sounds scary? Let me tell you why.
Fresh Manna From Heaven
He will "love you" as a fresher for various reasons, in fact, campus guys deem fresh girls as manna from heaven. For this reason they always crave to hunt and devour on the innocent ladies and leave them for dead. Infamously called "hit and run", so, why do they prefer fresh girls to other ladies?
Virginity
To start with, they believe that you are a virgin. They are of the notion that fresh girls are untouched, pure and without blemish. Most of us do not get to taste relationships until we are in campus. Our strict upbringing, boarding schools among several other factors are to blame for that.
Campus men have this in mind and since everyone likes new taste, you will find them knocking at your hostel door and talking to you in the voice of your dream. But remember this, their love is fabricated and so is that voice. They only want to have their way in you.
You Are Naive
It is your first time outside the watch of your guardian and thus naivety abounds in you. Campus guys damn know this too and therefore, they will want to use it to their advantage. They will tell you "I love you", and you believe it, "can we go to the club, I will take care of you", you fall for that too, "let's make love, or don't you love me" and you go ahead. Downright naivety!
Girl, true love does not exist in campus soil, true sex does. "I love you" is the most frequent lie you will hear throughout your campus life and if you do not train yourself to be resistant to it, you could land in an exploitative relationship. So, take your time and do not believe everything that crosses your ears.
Ponyoka na Fresher
Lastly, they will want you because, you have never heard of the phrase " ponyoka na fresha". This phrase is used by the guys in their senior years, but they only use it outside the scope of your hearing senses. It simply means grab a fresh girl and sleep with her. They actually challenge each other to date a fresher since their innocence is saliva-generating. So baby, it is not that he loves you; he is just performing the norm of grabbing.
Remember….
The excitement you have bottled within you may erupt once you join campus and you may ruin your future. One thing you should not forget is being vigilant, strictly be cautious and always remember there is always more than what meets the eye. Before you become intimate with a friend or a guy, first ensure that you know them out rightly.
Trust nobody but yourself and your intuition. Remember sex is not proof of love and therefore do not be compelled to have it for the safety of the relationship. Fall in love, yes, but do not dump your brain when you do so. But above all, keep God first, seek Him and He will bring the right people to your life. Strictly be vigilant.
The writer is a second year student at Rongo university.