Akili Dada training program for female student leaders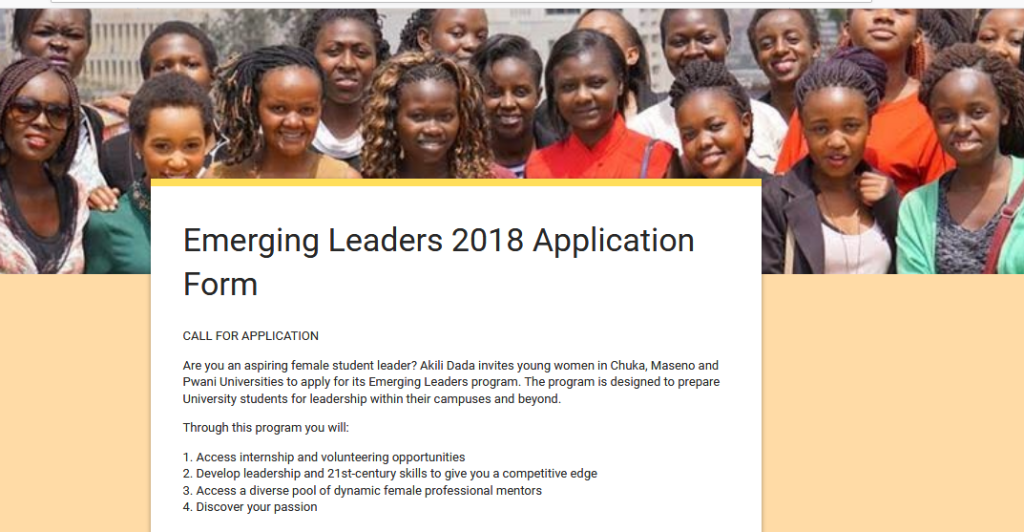 The disparity between women who are willing and ready to take up leadership positions and their male counterparts dates back to campus. Very few ladies often offer themselves up for leadership positions during campus elections. This is a challenge that Akili Dada seeks to address through their emerging leaders program.
Akili Dada is an African Women's Leadership incubator. Founded in 2006, the organisation holistically educates and cultivates leadership skills in adolescent girls and young women, ages 13 – 35 years old. This is done through the Young Changemakers Program, the Gap Year Program and the Innovation in Leadership Program.

The 2018 Edition of the Emerging Leaders Program targets female university students from Chuka, Maseno and Pwani universities.
"Akili Dada invites young women in Chuka, Maseno and Pwani Universities to apply for its Emerging Leaders program.
"The program is designed to prepare University students for leadership within their campuses and beyond" the application form read.
Apply for Akili Dada Emerging Leaders Program
The program presents a lot of benefits to students including access internship and volunteering opportunities.
Other benefits include development of leadership and 21st-century skills to give the participants a competitive edge; and access a diverse pool of dynamic female professional mentors.
The Akili Data Emerging Leaders program also promises to help students discover their passion.
To qualify for the program, the individual must be a woman aged between 18 – 30 years. Additionally, the applicant must be in their first or second years of study at the university at the time of submitting the application.
RELATED: Join #Iam4Her Campaign and help keep a girl in school
Applicants must also have a strong interest in vying for leadership positions within their university. Lastly, the applicants must be willing to commit fully and participate in the program for a duration of 2 years.
The program is set to run between September 2018- September 2020 and the application deadline is on 1st October 2018.