Apply for 2018 GSEA Competition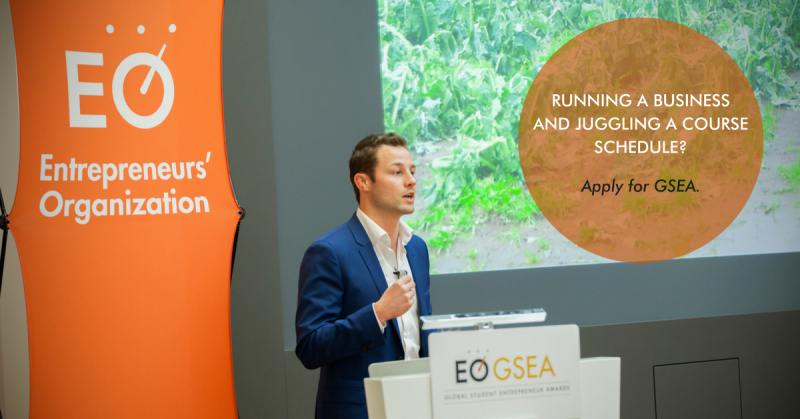 The Global Student Entrepreneur Awards (GSEA) is the premier global competition for students who own and operate a business while attending college or university.
Nominees in the competition compete against their peers globally in a series of local and/or national competitions in hopes to qualify for GSEA Finals.
GSEA global finalists compete for a prize package of US$20,000 in cash and a total value of over $40,000, which includes a travel/lodging expense paid trip to compete in the Global Finals.
Second place will walk away with US$10,000 and third place will receive US$5,000 cash prize.
Additional awards are given at the Global Finals for Social Impact, Innovation, and Lessons from the Edge.
Founded in 1998 by Saint Louis University, GSEA is now an Entrepreneurs' Organization (EO) program.
EO GSEA supports student entrepreneurs who require much needed mentorship, recognition and connections to take their businesses to the next level of success.
The organization's vision is to empower students entrepreneurs to become the world's most influential change makers.
EO GSEA has a mission of giving student entrepreneurs the opportunity to accelerate their success, challenge the status quo, connect to an instrumental peer group and make the greatest impact possible in their community.
Undergraduate and graduate* college/university students who own and operate a business for at least six months are eligible to compete.
Qualifying competitions are held in cities and countries worldwide, with the 2019 Global Finals competition being held in Macau, China.
Qualifying competitions take place throughout the calendar year with the Global Finals held in April 2019.
Since 1998, the Global Student Entrepreneurship Awards has honored outstanding undergraduates who juggle a course load as a student and run their own businesses at the same time.
GSEA, Largest and Fastest-growing Global Competition
Since its inception, the program has become one of the largest and fastest-growing global competitions in terms of the number of partnering schools and participating students.
The program's mission is to inspire students to adopt entrepreneurial endeavors by bringing global visibility to student business owners whose companies adhere to high ethical standards, are innovative, profitable and socially responsible.
The EO GSEA program began in 2006 and has enabled student entrepreneurs to tap into the collective knowledge and experience of EO members.
The student entrepreneurs gain access to global networks and to a community that understands passion, struggle, drive and success.