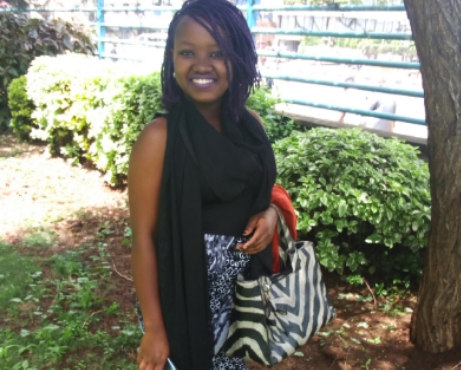 Cakes. They symbolize great events in our lives. They are the hallmark of birthdays, graduations, baby showers, weddings, opening ceremonies, anniversaries and whatever else calls for a celebration.
I love cake. You love cake. They love cake. If you find someone who does not love cake and lack medical reasons, shun them. I promise you, you do not need such negativity to navigate this life.
Eunice Wambui, a second year student at the world class University of Nairobi studying International Relations is a lady you cannot afford to miss her contact in your devices. I mean she bakes cakes!
"I am a foodie. Oh yes, I love food and top of them are cakes. Following my self employment bid (BYOB), I decided to conquer idleness by baking. If I was to eat cake, why not consume my own instead of buying?
"That is how I started. My very first cake was done in a sufuria. I was lucky enough to have my mother's oven to use. From then on its been a learning experience as I better what I do."
Eunice spent three months at a Baking School to acquire complex skills that come with the art of baking. Her business is currently 1 year old and she is not about to stop anytime soon.
"I saw the constant parties in campus as an opportunity I can explore. Most of these parties require cake to wrap them up and I decided to put myself out there with this possible niche."
With the savings from her previous job, Wambui managed to purchase different tins as well as creaming equipment to put herself at par with the rest of the individuals offering similar services.
"For the flour, sugar, oil and other basic baking ingredients, I simply get them from supermarkets. For the cream however, I go to specific shops in town.
"I bake on orders. The best months for business are February, August and December as well as various holidays. I find myself very busy. The rest of the months like January can be very frustrating and devastating."
Those living along Thika Road are lucky as they get free deliveries. People from far flung areas have to pick their cakes from the CBD.
"I'm always looking forward to positive feedback from the customers as I rely on word of mouth referrals. Friends who advertise my previous cakes to their circles keep me motivated to do more and be better."
It has not been a smooth sail for Eunice Wambui in these sweet waters.
"While my family stood firmly behind me, with my mother offering guidance on what to keep doing, what to expunge as my brother paid for the short course, some of my friends had different streak of colors."
To say it in black and white, she figured true friends from acquaintances.
"There was a time I got an order for a chocolate coated cake with strawberries. The client paid the deposit and I got to work. On delivery, he failed to pay the remaining amount promising a later date.
"Since he was a friend's friend, I believed him. It followed that I was left with unanswered calls and texts instead of my money. After a long time of pursuing him even through our mutual friend, I stopped.
"Apart from deferred payments, it is quite an uphill task reaching the market. Getting people to know you and trust you to give them the best taste on their memorable day is not a walk in the park.
"On having all my equipment with me, I turned into a spendthrift (laughs) but I'm now back on track. I'm saving up to ultimately open a bakery that I can run instead of working from home."
Her overall big dream however, is to own a chain of bakeries. Hopeful on time, she lives to realize it.
When she is not baking, delivering orders or in school, Wambui enjoys watching local rugby games, listening to music and watching movies once in a while. Like the rest of us, she enjoys chatting.
Cakes carry a tag of Ksh 1200 and above depending on the size and type although they are bargainable. Vanillas are the cheapest while other flavors such as fudge and chocolate are pricier.
To be wowed by her designs and creativity on the edibles, find her page as Nice Cakery both on Instagram and Facebook. She admits she finds it challenging using social media as marketing strategy.
Parting shot?
"Find something you are passionate about. It is better trying than not. It does not cost anything."