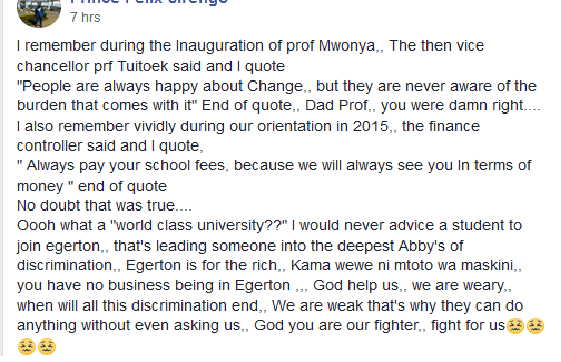 Egerton university students are not a happy lot due to what they believe to be the university administration's don't-care attitude towards addressing their plight.
According to the students, the university only see in terms of money and therefore would not hesitate to throw them out in the cold when the students fail to pay their school fees.
"Oooh what a "world class university??" I would never advice a student to join Egerton. That's leading someone into the deepest Abby's (sic) of discrimination." one student noted adding that "Egerton is for the rich,, Kama wewe ni mtoto wa maskini, you have no business being in Egerton."
According to the students, the university does not care about their plight and is discriminating between rich students who can afford school fees and those from poor backgrounds who can't afford to pay their fees.
Some former students at the university went down memory lane on how the issue of fee increment has been a hot potato at the institution that led to the suspension of two student leaders from the institution.
"I remember paying 29800 in first year but in the following years I paid 41200″ a former student at the Njoro-based institution noted before adding that "then in 2015 Lucifer came in person and increased the resit fee."
However, another student was quick to point out that the situation is not only being suffered by Egerton University students but students from other institutions as well.
" It's not only in Egerton. It's almost everywhere. If you don't have money no one wants you. You are looked down upon. Kwanza those people wa finance are so merciless" the student noted.
"I always encourage people especially students to venture into side hassles like online writing, academic writing etc It will help you get some coins."