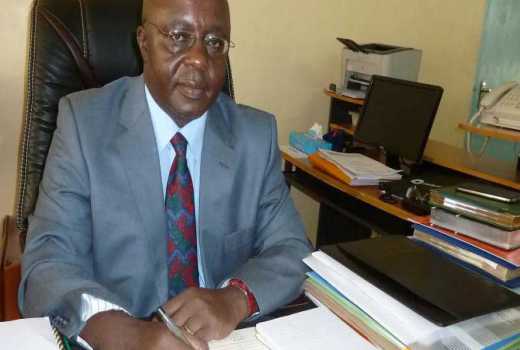 Embattled Masinde Muliro University of Science and Technology (MMUST) vice-chancellor has reached out to the Education CS Dr. Fred Matiang'i to help him save his job from the university council keen on kicking him out.
The distressed VC called on Matiang'i to save him from a probe against him that he considers being a witch hunt aimed at kicking him out of office.
According to a letter from the Ethics and Anti-Corruption Commission addressed to Dr. Matiang'i, the CS was requested to suspend Prof. Otieno as from the VC's position as investigations into alleged graft practices were being concluded.
However, the CS order the convening of a meeting between the VC and the EACC to agree on a timeline for the investigations, conclusions and the steps to follow.
In a follow-up letter, Prof. Otieno accused the council chairman Jeremy Bundi of deliberately being cagey on the identity of the EACC detectives investigating the matter after they insisted that the meeting had to be held outside the campus.
"There was no proper communication between the university and the commission on the said meeting and we relied on the chairman's direct phone calls," says Prof. Otieno of the disciplinary meeting.
"When it became apparent that there was an extreme delay from the commission, at around midday the council was informed by the chair that the anonymous officers from EACC we expected were not comfortable with meeting the full council and they preferred only a few select members to meet them outside the institution," he said, adding that he was ordered out of the room and the meeting proceeded in his absence.
According to Prof. Otieno, he was being unfairly targeted as the allegations against him are false and continue to remain mere allegations for as long as the commission is unable to provide proof when called upon.
Moreover, he is challenging the decision to suspend him, insisting that it was unlawful since he was not accorded an opportunity to witness or be part of the proceedings of such a critical meeting.
In response, Matiangi has urged the VC to meet with the EACC so as to ensure a speedy conclusion of the matter.