Scanty Dressing Costs University of Eldoret Student's Teaching Practice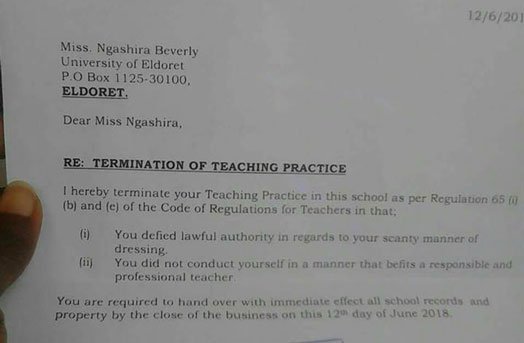 St. Mary's Mumias High School has terminated the teaching practice of a University of Eldoret student over what it termed as "scanty mode of dressing."
According to a letter from the school, Miss Beverly Ngashira broke Regulations 65 (i), (b) and (e) of the school's Code of Regulations for Teachers.
Miss Ngahira is said to have been dressing scantily on her days of practice. ​
In a letter addressed to her by Mrs Rosemary Kwendo, Miss Ngashira 'defied lawful authority' and did not conduct herself in a manner that befits a responsible teacher.
"I hereby terminate your Teaching Practice in this school as per Regulation 65 (i) (b) and e of the Code of Regulations for Teachers in that;
(i) You defied lawful authority in regards to your scanty manner of dressing.
(ii) You did not conduct yourself in a manner that befits a responsible and professional teacher.
You are required to hand over with immediate effect all school records and property by the close of the business on this 12th day of June 2018," read the letter.
The letter was first shared on social media by the ODM Communications director and has attracted mixed reactions from the general public.
Was the principal of the school right at terminating Beverly's teaching practice? What do you think.