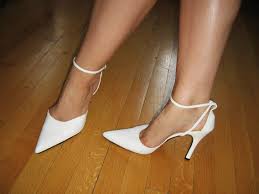 Normally, your shoes are the first thing people look at when they first meet you. You can judge a person by the type of shoes they wear. So isn't it common knowledge that you should always put on a nice pair of shoes?
Marilyn Monroe, known for playing dumb blonde characters, coined the famous shoe quote: "give a girl the right shoes and she can conquer the world'. I don't know if this was a marketing strategy or fuelling the female addiction of shoes. Some have gone ahead and said that there is no recorded history of her saying that and perhaps tagging her name to the quote helped some stores sell a few more shoes.
You see the right shoes go far beyond the physical. As superficial as they are, shoes boost confidence levels. However, there is nothing worse than having a nice pair of shoes and mismatching the outfit. Have you experienced this and thought of probably how you'd rock them given the chance. Ever considered that probably what they lack is information?
Pointy
For pants, they go with any kind of pants. Let the points peek out from trousers or wide- legs for a long, lean line.
For skirts, they come in handy with pencil skirts, knee-length skirts, and A-line skirts.
Peep Toe
Just like pointy, they go with any pants. For skirts, they're good for any skirt, knee length or lower.
Almond
Wear this with straight, cropped or skinny pants. For skirts, their soft curve lengthens your legs without looking too harsh; therefore, they go with any skirt. Isn't it great that they can be worn with tights too?
Open
The holiday season is here and you just can't wait to show off your well-manicured toenails. Good thing, they go with any type of pants. With skirts, you can wear maxi, A-line, and mini-skirts.
Round
Goes with straight and skinny pants. However, you might need to pair crisp crops with these round toes. Show a little leg with your knee-length skirts so as not to look slump.
However, it doesn't matter how great your shoes are if you don't accomplish something in them.